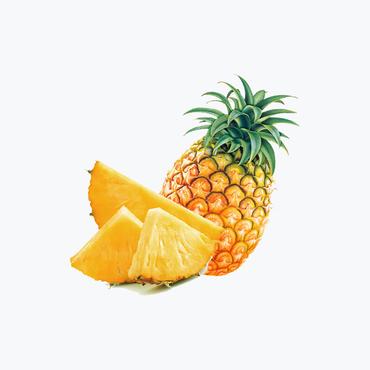 Pineapple delivered directly to your home within 24 hours in Mumbai, Navi Mumbai & Thane. Order Now. 
Refund policy
Returns Policy
This policy forms a part and parcel of your terms of use of this website and you are bound by these.
www.spotlessfruits.com is a website operated by marketers for selling farm produce, primarily fruits, which you are aware, are perishable products. You understand that these fruits cannot be stored beyond a certain time limit. Hence any return is bound to kill the quality of the product.
Hence, as a policy, we do not accept returns, for all products. Exception here are cases where you receive damaged, pressed, squeezed or crushed consignments. In such cases, you may return the consignment, provided you give us a call or send us and when such consignments reach you. The number to call in such cases are +91 8169861024, the email id to send an email is return@spotlessfruits.com.
Cancellation Policy
You are aware that once you place an order, our team is assigned to process your orders. As we provide express delivery and 24 hour delivery, it is important that the order cancellation is communicated on the phone number +918169861024, as earliest as possible. Once the produce is packed & dispatched to you we have no control over it. Hence, as a policy, orders once placed and paid for will not be cancelled, unless informed before dispatch. We may, at our sole discretion, consider postponement of your order, provided we get your update soon enough and operationally we are in a position to do so.
Replacement Policy For Bad Fruits
We, as a Marketer, are committed to give you the best fruits and complete returns for your every rupee. We hope you understand that these are naturally grown fruits and no one can fathom nature. Fresh Fruits and Vegetables may likely get impacted by unruly weather. You understand that humans like you and us and our behaviour is responsible for climate change, and that is messing up monsoon, summer and winter all across the world.
It will be unfortunate if you receive such fruits, but you need to understand that we will remain committed to you. Please be assured that we do not pack bad fruits while we are shipping to you. We understand the power of social media, and pure human behaviour. If we give bad produce deliberately, then our brand will soon get a bad name, we will not have repeat customers and we will soon go out of business. So why would we do that?
We are not fly by night operators. We are here for the long term. We founded in 2015, and have been going strong. Hence, we give replacement for bad fruits & vegetables. YES, WE GIVE FREE REPLACEMENT FOR BAD FRUITS. Hence, we offer replacement in two very specific cases, subject to specific conditions. They are as follows.
We will offer you replacement in two cases.
Damaged Fruits: Though in rare cases, but at times, the courier travel may damage the fruits by the time they reach you. In such a case, the box used to send the fruits to you will be damaged too. If you encounter such a box, we will offer you replacement for such bad or rotten fruits, provided you inform us via call or email within 6 hours of receiving such consignments, and send us pictures of the damaged fruits and box within 12 hours of receiving such consignments. The number to call in such cases are +91 8169861024, the email id to send an email is return@spotlessfruits.com.
Bad or Rotten Fruits: Though in rare cases, but at times, fruits that look perfectly good from outside, may be bad or rotten from inside. You understand that this is nature and not a man-made product and we cannot, in spite of all efforts, say for sure what is inside the fruit. If you encounter such fruits, we will offer you replacement for such bad or rotten fruits, provided you inform us via call or email within 6 hours of receiving such consignments, and send us pictures of the damaged fruits and box within 12 hours of receiving such consignments. To simplify this further, this means that when you encounter such fruits, which could be two or three days after receiving the parcel from courier, inform us within the time limit. To make this even clearer, assume that you got the parcel three days ago and the fruits were not yet ripe, today they ripen, and you cut them, and you find them bad, inform us with pics within the time limit. You also understand that fruits come with very short shelf life and should be consumed within that time frame. The shelf life of the some is around four to six days for Mangoes, from delivery to you, after which the taste starts dropping. Developing of wrinkles on the fruit is also a sign of the end of ideal shelf life of the fruits. We have put up this policy to help people get the worth of their money. We are not fly by night operators, who want to run off with your money. The numbers to call in such cases are +91 8169861024, the email id to send an email is return@spotlessfruits.com.
If the whole consignment turns out bad, we replace it. For handful of fruits, we will send you discount codes of the value of the bad fruits, which you can use on your next order.
*Please note that Alphonso Mangoes are not supposed to kept in the refrigerator for reasons as explained here http://www.spotlessfruits.com/alphonso-mangoes-goes-bad-in-the-fridge/. Mangoes will go bad if kept in the refrigerator and we will not be liable for refunds or replacements if you keep the mangoes in the refrigerator and they go bad.
Refunds Policy
In the event we are not able to provide you a replacement, for reasons including but not limited to season-ending, not enough production, lack of service of courier, etc, we will issue you refunds for the amount you have paid us. Wherever possible, the refund will be given to the same payment source where the payment was made from. If that is not possible, a refund will be issued to a bank account, the details of which will be asked from the email id which was used to place the order. The refunds will be remitted to your accounts within 21 working days.
Exceptions
You are aware that the fruits that we send to you are sent by third party courier companies and they are the best in their work, Fedex for instance, which we use. You are aware that when we dispatch fruits to you, they go out of our control. You understand that they should reach you as soon as possible for them to remain their best. We send you a 'shipped' update to as soon as they are taken over by the courier company and it is your responsibility to ensure that you or someone will be there at the given address to receive the box. This replacement and refunds will not hold good in the case that they have reached your premises, but the delivery to you is delayed because you were unavailable, did not answer the call, or requested a later date for delivery. You understand that fruits are perishables and delaying delivery is likely to hasten their perishability. Hence, we will not be liable to give any replacement or refund in such a case when the status checks with the courier company shows that later delivery was requested. As explained above, fruits have a very short shelf life, and should be consumed in that time frame. We are not liable for any requests for refunds and replacements, after the end of shelf life.
Privacy policy
Spotless Fruits ("SpotlessFruits", 'Spotless Fruits India", "we", "us" and "our"), a company established in the Republic of India, with legal name 'We Create Infotech Private Limited, located at Office Number 1, First Floor, Vijay Autoworks Compound, Opposite L & T Gate No.6, Saki Vihar Road, Powai, Mumbai - 400072 operates www.spotlessfruits.com (the "Site").
This Privacy Policy explains how we will use the information that we collect about you when you use this Site. Your use of this Site will also be subject to our Terms of Service and, if you purchase any Product, our Refund Policy. Terms defined in the Terms of Use will also be applicable to this Privacy Policy.
1.When we collect your personal information
You can visit and browse the Site without having to provide any personal information. However, you will need to provide personal information when you register an account, place an order or make a Submission.
2.The personal information we collect
The personal information we collect will include your title, name, gender, email address, postal address, delivery address (if different), telephone number and mobile number. We may also collect personal information provided by you together with or as part of any Submission.
We do not collect payment details, payment card details or bank account details. These details are collected during the secure purchase process facilitated by our payment service provider, and these details are never shared with us.
3.Other information we collect
We will collect certain information (such as time and date of your visit to the Site, pages viewed, IP address and browser used to access the Site) whenever you visit the Site. We use this information to understand how our Site is used and to improve performance the Site. This information is anonymised and cannot be linked back to you as an individual.
4.How we use your personal information
We will use your personal information to:
establish and administer your account, process and deliver your Orders and to provide you with services and information;
improve the Site layout, Content and functionality; and
carry out research on our users' demographics and tastes.
We may use your personal information to send you information about our Products and services and those of our associated companies. You can choose to opt out of this at any time by clicking on the "unsubscribe" link in any marketing email that we send to you.
5.Sharing your personal information with third parties
We will share your personal information with:
Shipping Service Providers for Order delivery purposes;
third parties who provide us with services, in order to provide us with those services (for example: marketing, website administration and fraud protection services); and
any governmental or legal authority if required by law.
All credit/debit cards details and personally identifiable information will NOT be stored, sold, shared, rented or leased to any third parties.
We may transfer our databases containing your personal information if we sell our business or part of it. Other than as set out in this Privacy Policy, we shall NOT sell or disclose your personal information to third parties without obtaining your prior consent. The Site may contain links to other sites or frames of other sites. Please be aware that we are not responsible for the privacy practices or content of those third other sites, nor for any third party to whom we transfer your personal information in accordance with our Privacy Policy.
6.Use of Social Plugins
The Site uses social plugins ("plugins") provided by third parties including Facebook, Instagram, What's App and Pinterest ("PI Providers")).
When you visit a page that contains a plugin, your browser establishes a direct connection to the servers of the relevant PI Provider (which may be located overseas) and your plugin content is transferred to your browser. The relevant PI Provider is then able to receive information about your having accessed that page of the Site. This occurs even if you do not have an account with the PI Provider or are not logged into it at the time.
If you are logged into the website of a PI Provider, and you interact with the relevant plugins on our Site (for example by clicking "Like" or entering a comment) the corresponding information is transmitted from your browser directly to the PI Provider server and stored by it. The information may also be published on your PI Provider account page and visible to those whom you have given access as "friends" or otherwise.
You can block plugins by using add-ons for your browser, like the "Facebook Blocker".
For information on the purpose and scope of data collection by Facebook, Pinterest and Instagram and how it is processed and used, as well as your rights in this respect and settings options for protecting your privacy please read the privacy policy of the relevant PI Provider: Facebook, Instagram, Pinterest.
7.Cookies
It is not necessary to accept cookies to visit our Site. However, if you would like to place an Order or add an item to your shopping basket, you will need to set your browser to accept cookies so you can use the relevant functions. The cookies we use are never used to store any personal information and cannot be traced back to an individual user. We use the anonymised information we receive from the cookies to understand how our customers use our Site, to improve the Site, to tailor advertisements to your tastes and to make the Site easier for you to use.
This Site uses Google Analytics which uses cookies to help us analyse how our Site is used. The information generated by the cookie about your use of the Site (including your IP address) will be transmitted to and stored by Google on servers in the United States. Google will use this information for the purpose of evaluating your use of the Site, compiling reports on website activity for website operators and providing other services relating to website activity and internet usage. Google may also transfer this information to third parties where required to do so by law, or where such third parties process the information on Google's behalf. Google will not associate your IP address with any other data held by Google.
8.Security
We have in place technical and security measures to prevent unauthorised access to or accidental loss or destruction of your personal information that is stored by us. We collect your personal information on a secure server and we use firewalls on our servers. Whilst we are unable to guarantee 100% security, this makes it hard for a hacker to decrypt your details. Our security procedures mean that we may occasionally request proof of identity before we disclose personal information to you. You are responsible for protecting against unauthorised access to and use of your password and account.
9.Consent
By using our Site or by submitting personal information to the Site or to us or to our agents, you consent to our use of your personal information in the manner set out in this Privacy Policy.
10.Access and contact
The Website Policies and Terms & Conditions may be changed or updated occasionally to meet accepted requirements and standards. Therefore Customers are encouraged to frequently visit these sections in order to be updated about the changes on the website. Modifications will be effective on the day they are posted.
You may request access to your personal information and you may request that we corrected any inaccuracies in that personal information. At any stage you also have the right to ask us to stop using your personal information for direct marketing purposes. You may contact us at +91 8169861024 or email us at sm@spotlessfruits.com or post letter at 'Spotless Fruits' We Create Infotech Private Limited, Office Number 1, First Floor, Vijay Autoworks Compound, Opposite L & T Gate No.6, Saki Vihar Road, Powai, Mumbai - 400072.
Terms Of Service
Please read the following terms and conditions very carefully as your use of service is subject to your acceptance of and compliance with the following terms and conditions ("Terms").
This document is published in accordance with the provisions of Rule 3 (1) of the Information Technology (Intermediaries guidelines) Rules, 2011 that require publishing the rules and regulations, privacy policy and Terms of Use for access or usage of www.spotlessfruits.com website.
The domain name www.spotlessfruits.com (hereinafter referred to as "Website") is owned by We Create Infotech Private Limited (hereinafter referred to as "www.spotlessfruits.com") and licenced for sales of Fresh Fruits & Vegetables but not limited to any food products online.
Your use of the Website and services and tools are governed by the following terms and conditions ("Terms of Use") as applicable to the Website including the applicable policies which are incorporated herein by way of reference. If You transact on the Website, You shall be subject to the policies that are applicable to the Website for such transaction. By mere use of the Website, you shall be contracting with Www.spotlessfruits.com and these terms and conditions including the policies constitute Your binding obligations, with Www.spotlessfruits.com.
For the purpose of these Terms of Use, wherever the context so requires 'You' or "User" shall mean any natural or legal person who has agreed to become a member of the Website by providing Registration Data while registering on the Website as Registered User using the computer systems. www.spotlessfruits.com allows User to surf the Website or making purchases without registering on the Website. The term "we", "us", "our" shall mean www.spotlessfruits.com).
When You use any of the services provided by us through the Website, including but not limited to, (e.g. Customer Reviews), You will be subject to the rules, guidelines, policies, terms, and conditions applicable to such service, and they shall be deemed to be incorporated into this Terms of Use and shall be considered as part and parcel of this Terms of Use. We reserve the right, at our sole discretion, to change, modify, add or remove portions of these Terms of Use, at any time without any prior written notice to you. It is your responsibility to review these Terms of Use periodically for updates / changes. Your continued use of the Website following the posting of changes will mean that you accept and agree to the revisions. As long as you comply with these Terms of Use, We grant you a personal, non-exclusive, non-transferable, limited privilege to enter and use the Website.
ACCESSING, BROWSING OR OTHERWISE USING THE SITE INDICATES YOUR AGREEMENT TO ALL THE TERMS AND CONDITIONS UNDER THESE TERMS OF USE, SO PLEASE READ THE TERMS OF USE CAREFULLY BEFORE PROCEEDING. By impliedly or expressly accepting these Terms of Use, You also accept and agree to be bound by the www.spotlessfruits.com Privacy Policy.
Membership Eligibility 
Persons who are "incompetent to contract" within the meaning of the Indian Contract Act, 1872 including minors, un-discharged insolvents etc. are not eligible to use the Site/Website. If you are a minor i.e. under the age of 18 years, you shall not register as a member of the www.spotlessfruits.com and shall not transact or use website. As a minor if you wish to use or transact on website, such use or transaction may be made by your legal guardian or parents on the Website. www.spotlessfruits.com reserves the right to terminate your membership and / or refuse to provide you with access to the Website if it is brought to www.spotlessfruits.com's notice or if it is discovered that you are under the age of 18 years.
Seller / Business entity registration: If you are registering as a business entity or seller, you represent that you are duly authorized by the business entity to accept these Terms of Use and you have the authority to bind that business entity to these Terms of Use.
Your Account and Registration Obligations
By using the Website, You shall be responsible for maintaining the confidentiality of your Login Name and Password, and You shall be responsible for all activities that occur under your Login Name.